Comments and user experience on "Belpasso® Premio paving" and "CleanTop®" by Jörg Husarek, Dipl.-Ing. Architect AKNW:
"The platforms of ÖPNV stations are known to be subjected to high requirements by its users. Tenacious stains through chewing gum, drinks (e.g. cola, etc.) are a normal case, but there are very little funds for the cleaning and maintenance.
To preserve these surfaces in a well-kept and attractive condition, the requirement on the quality of the paving material is extremely high.
The platforms of the Duisburg city railway station "St.-Anna-Krankenhaus" were paved with "Belpasso® Premio pavers" in the "Grigio" colour, interspersed with pavers in "Pesto" colour for variety of surface and a colourful accent.
The material precisely fit my aesthetic and creative ideas on the surface structure, colour selection and format.
The technical requirements such as tread safety, mechanical resilience, easy cleaning and low maintenance features were also fulfilled according to the manufacturer's specifications.
After nearly two years of use – inauguration was in early February 2005 – the platforms are in flawless condition, wears of use almost unrecognisable.
As the paving surfaces are naturally weathered, the platforms are thoroughly cleaned only once a year. In the process the paving is pre-treated with cleansing foam and subsequently given a high-pressure wash with cold water.
Dirt does not penetrate – due to the "CleanTop®" surface – the paver and can be simply rinsed. Even the problematic, strongly adhesive chewing gum is easily removed by the pressure cleaning."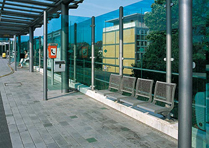 Covered platform,
not cleaned for 2 years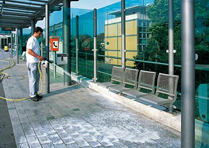 Spray cleaner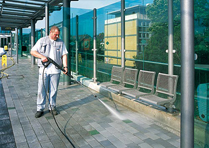 Spray-washing surface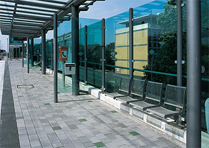 Clean surface